In an era where customers can easily compare bank products and services and read reviews from fellow consumers on every aspect of their experience, removing barriers to acquisition and needless friction from ongoing activities will make or break bankers' ability to compete successfully.
This means shaking off the remaining silos and legacy processes that disrupt the customer experience and lead customers to abandon banking tasks (or the bank altogether).
This guide will examine the most critical processes in each stage of the lifecycle and how digitizing them can accelerate growth and cement customer loyalty.
Acquisition: Speeding Up Applications With Effortless Journeys
It costs around five times as much to attract a new customer than it does to sell to existing ones. This means that banks must think lean when setting up an acquisition strategy.
Research shows that legacy processes keep acquisition costs bloated, while in contrast, digital acquisition processes slash costs significantly. Whereas retail client acquisition in a physical, siloed world costs an average of $280, shifting to digital onboarding reduces the cost to $120 and in subsequent years for additional clients to $19. A similar story exists in commercial banking, where acquisition costs can be slashed from $4,000 to $1,200.
Legacy processes prevent banks from efficiently guiding customers to the finish line
Customer demand to buy banking products online dramatically accelerated during the Covid-19 pandemic. A survey of 1,028 Americans found that 55% of consumers plan to visit their bank branch less often in the future — with 25% saying they will avoid face-to-face banking altogether. 79% of customers want their bank to provide them with more all-digital processes.
Yet only 11% of banking professionals surveyed said that customers can sign up for a new account completely on their own, with 27% indicating that "most" of their onboarding process can be completed independently.
And despite all of the money and resources banks have invested in rolling out mobile banking apps, only 14% said that these apps are the primary way their bank onboards new customers.
This continued struggle to onboarding customers digitally means wasted time. Half of professionals said their bank is able to onboard a new customer in six hours or less — yet still 31% said signing up new accounts takes them two full days or more.
The consequences are real. Bank employees are burned out by fielding questions during a prolonged process. Customers are lost due to high-effort journeys requiring multiple digital and non-digital touchpoints. Traditional banks begin to lose relevance.
Accelerating Customer Acquisition with Digitization
Banks tend to rely on PDF-based forms and documents to acquire all required data and consents. This is a kind of digital half-measure, much like giving customers the ability to apply online (only to require a branch visit to complete the process).
Instead, banks can use an end-to-end digital platform to accelerate vital acquisition steps, including:
Acquiring new customer forms
Processing loan applications
Verifying ID
Collecting supporting documents
Agents can initiate an intuitive and mobile-optimized digital session with the customer that enables them to send the required elements. The customer can verify their ID, sign and complete the application, and tap approve to consent to terms and conditions. All steps required to apply for an account can be streamlined in one workflow. And all data needed to open an account can be collected within a unified secured channel, simplifying compliance.
This streamlines acquisition for banks, enabling them to shorten the time to onboarding while delivering the effortless experience needed to convert today's customers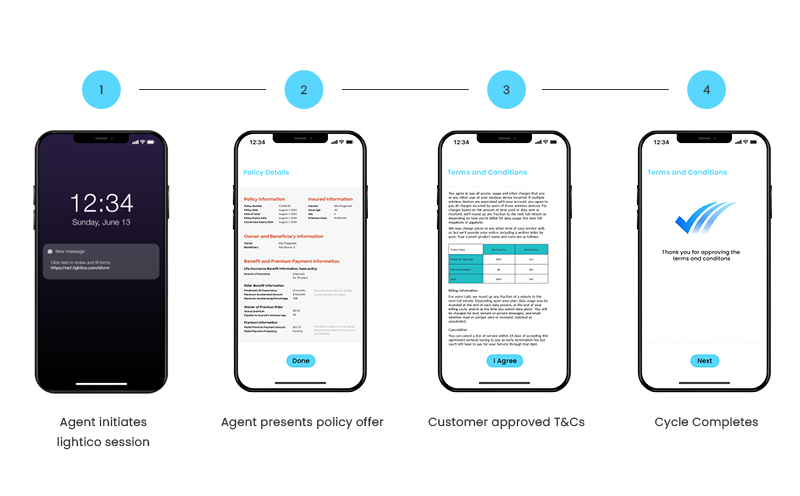 Onboarding: Enabling Seamless Self-Service With Agent Assistance
Once a customer has completed the application process, agents work to set up the account while automating deposits and billing, and collecting any additional paperwork.
As we've seen, the pandemic has altered consumer expectations about in-person banking. This means that when it comes to onboarding, banks will need to provide easy and convenient self-service options. However, research shows that most consumers still prefer to receive agent-assisted help when they need to complete a complex task or process. Without striking the balance between fast and simple digital self-service and agent assistance when they need it, banks risk costly delays in onboarding new customers and having new account opportunities evaporate due to inconvenient experiences.
Pairing Digital Onboarding With Agent Assistance a Win-win For Banks & Customers
Human interaction is still vital for accelerating onboarding processes while delighting customers. Self-service options and agent assistance do not have to be mutually exclusive: Bankers can benefit from both with capabilities that help agents guide a customer through a digital self-service process from beginning to end.
Pairing digital convenience with real-time remote agent guidance ensures that customer questions are answered, mistakes are averted, and no loose ends remain.
Instead of sending out forms for setting up direct debit payments, or calling customers back over and over to request additional supporting documentation and details, bank agents can start an interactive session through Interactive Voice Response (IVR), website engagement, or any other self-service link option.
By using automated digital workflows, banks can dynamically build customized onboarding processes. Customers are asked to provide only the information that is needed from them, no more and no less. Automated workflows ensure agents keep the ball rolling between critical steps in the onboarding cycle, promoting both better compliance and efficiency.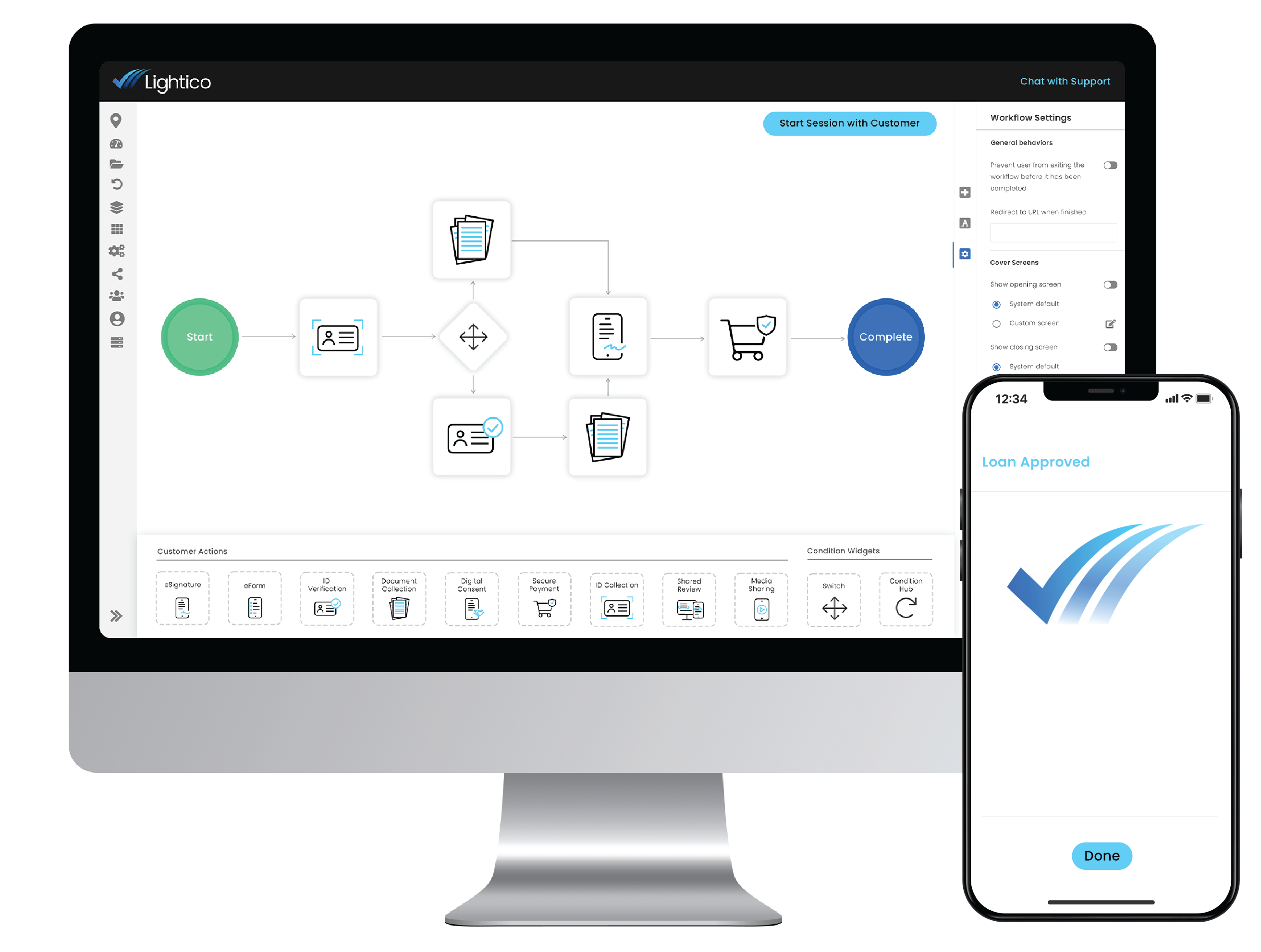 Servicing: Removing the Friction That Leads to Churn
Whether they have a little or a lot of it, money plays a crucial roles in consumers' lives. Therefore, every interaction with their bank is potentially fraught. Customers rely on their financial institutions to manage their money (and provide easy access to it) throughout the entire lifecycle.
This trust between bank and customer is put to the test when a customer needs clear and immediate support to manage payments, update personal details, and modify and defer loans.
Handling servicing requests efficiently is critical for banks to avoid delays, gaps in communication, and misunderstandings with customers that can waste time, bring frustration for both sides, escalate into disputes, and lead customers to seek better service elsewhere.
Multiple Touchpoints Prolong Turnaround Time & Kill Customer Trust
Today's digital and mobile-first consumers expect to complete bank transactions and resolve issues quickly and effortlessly. But for too many banks, siloed systems and legacy processes force customers to interact with multiple touchpoints. This makes fast and compliant servicing nearly impossible.
Unfortunately, banks struggle to keep touchpoints to a minimum. A recent survey found that 44% of banking professionals indicate that three to four touchpoints are required to complete the loan origination process, with a further 33% requiring five or more. Just 21% said loans can be processed in one to two days. It's no wonder: more touchpoints and more friction means prolonged turnaround time.
Research by Gartner shows that an overwhelming 96% of customers become disloyal after having a high-effort interaction — emphasizing that the more hoops customers need to go through to accomplish a task, the more likely they are to defect.
Stitching together siloed systems that are only capable of handling parts of processes — be it ID verification, information updates, loan modifications, or anything else — produces multiple tasks and contact cycles, wasting valuable time for both customers and employees at a critical customer moment.
Legacy processes, such as email, PDF-based forms, printers, fax, and scanners — needlessly add more touchpoints for customers, who may start a process digitally, but soon after resort to calling the contact center to ask questions not understood from a lengthy and cumbersome form. They're then bounced completely offline, printing out forms and using outdated channels to communicate with their bank.
It's no wonder why servicing processes are so stressful for customers and time and resource-intensive for bankers.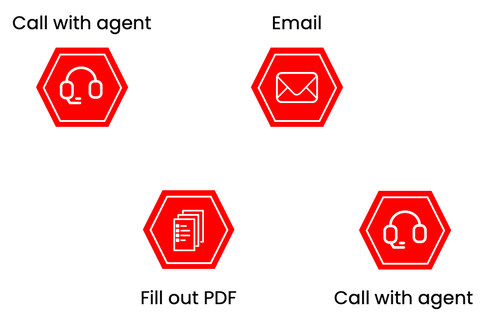 The result of these lengthy and friction-filled journeys? Failed customer service that increases churn, all while exhausting back-end operations and agents and complicating compliance.
Accelerating Servicing with One Compliant Platform
Eliminating the digital silos and legacy processes that leave many banks stuck dealing with the consequences of complex and friction-filled customer interactions requires a CX evolution.
The good news is that everything a customer needs from their bank can be accessed and shared with the one device they use the most: their smartphone.
An end-to-end digital banking platform can easily and swiftly guide customers through every step and requirement needed to open up a new account or service an existing one.
Verifying is as simple as snapping a selfie from their mobile phone and taking a picture of their ID which is then swiftly matched up and verified. They can complete customized forms in a secured mobile session. They no longer need to download long PDF documents from their email, fill them out manually and attach supporting documents. Instead, they can easily add all of these documents to the same session, saving significant time while giving bank employees one complete digital audit trail.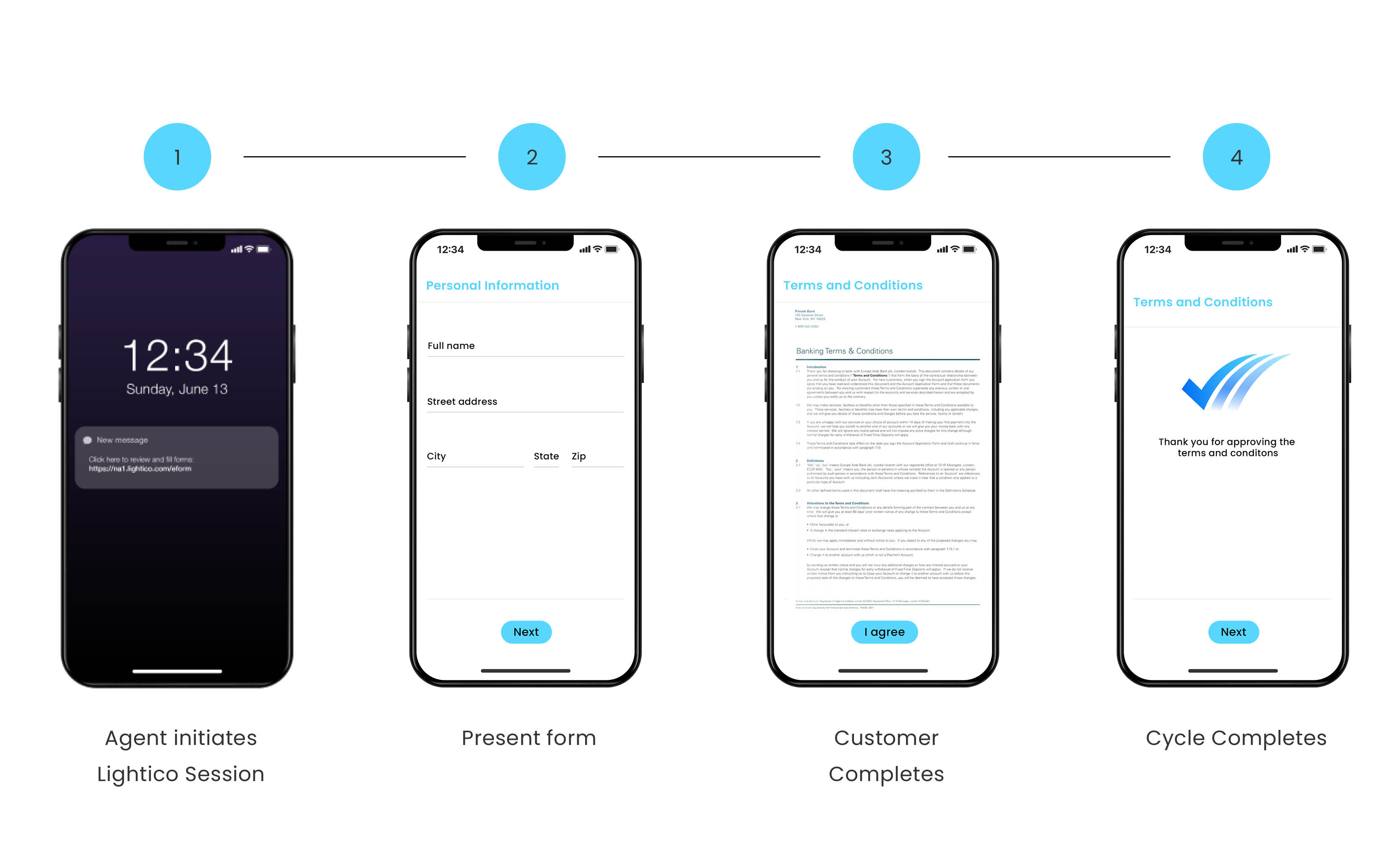 Banks can ensure ongoing customer tasks are quickly completed by fully digitizing these processes:
Change of address, name, etc.
Identity verification
Loan modification requests
Loan deferments and extensions
Notification of lost or stolen credit card
Request for replacement or additional credit card
Presidential/regulatory complaints
Terms and conditions/eConsent
Servicemembers Civil Relief Act (SCRA) tasks
Account transfers and assumptions
Fast and hassle-free customer service not only helps banks accelerate time to completion, it also unlocks immense cost-savings by minimizing significant paper and admin work for employees.
Retention: Making Renewal a No-Brainer for Customers
Data shows that improving customer retention by 5% can increase a company's profitability by 75%. Of course, successful retention simply won't work if managed in isolation from the customer's entire lifecycle.
The reliability and efficiency of customer experiences are the critical investments that strengthen banks' relationship with the customer and make them much more receptive to considering add-ons or upgrades, which can increase profits and lifetime value for banks.
Capitalizing on these critical opportunities means that any actions required by customers must be quick and simple. But this can go awry if new information that needs to be collected demands too much time and effort from the customer.
Customers often juggle dealing with banking tasks while multitasking or on-the-go — and upgrading their current account can fall through the cracks of their busy lifestyle if it requires say, printing out forms and having to scan or email them back. If it can't be done instantly, it won't be done at all.
This can lead to costly lost opportunities for banks when it comes to upgrades. It can also jeopardize renewal and the ability to keep customers on board. The days of blind or assumed customer loyalty are gone. Digital-first customers of today have a myriad of choices, and are more open than ever to fintechs and neobanks.
Enhancing Retention Through Effortlessly Simple Customer Interactions
For traditional banks, the new competitive reality means there's no more room for digitally incomplete retention strategies. Banks must focus on capabilities that eliminate high-effort tasks and minimize touchpoints for processes that can be completed digitally.
Giving their customers the convenience of consenting to new or additional types of accounts, providing any required documents or records, and setting up payments directly from their mobile device cuts out the delays that can frustrate customers considering renewals or upgrades.
With all the capabilities needed to compliantly acquire customer documents and data, and securely set up payments, banks can leverage an integrated digital completion solution to share upgrades and add-ons in a real-time mobile session, enabling customers to understand the value proposition, provide consent and close the deal without delay.
Today's cutting-edge banks are using digital completion technology to accelerate key retention processes such as:
Renewals
Upgrades and add-ons to contracts
Payment collection
Collect documentation
Eliminating customer experience gaps improves retention and customer loyalty for banks, enabling them to increase customer lifetime value.
Conclusion: Enhancing Customer Relationships Through Digitally Complete Banking Journeys
Each and every stage the banking customer lifecycle presents critical opportunities and risks that determine their decision to deepen their loyalty or seek a more convenient insurance alternative.
With digital and mobile interactions now the standard expected by customers, the time is now for banks to future-proof those interactions with their customers and deliver the seamless experiences that accelerate their ability to acquire new customers, open accounts, streamline ongoing services, and enhance retention.
Emerging Digital Completion technology has enabled banks to complete all customer-facing steps, such as eSignatures and eForms, ID verification, document collection, and digital consent on terms and conditions.
Digitizing entire banking journeys from start to finish enables banks to finally leave behind the limits of siloed systems and manual processes that bog down both their back-office operations with costly and time-intensive maintenance and customer-facing employees with paperwork.
Instead of experiences that exhaust time and resources from staff across contact centers and branch offices, necessitate admin and paperwork, and complicate compliance, one unified digital session guides customers in completing everything that's required to turn around their request, and can be combined in-tandem with live agent assistance to support customers in real time.
This eliminates the pain and friction of frustratingly long and complex experiences for bank customers, while giving financial institutions the ability to complete processes with speed and convenience — translating to a major competitive differentiator.
Banks currently delivering digitally complete processes experience:
25% increase in completion rates
67% faster onboarding
60% fewer touchpoints
With seamless and compliant digital journeys, banks can build strong and profitable long-term relationships with their customers, from their first conversation with an agent getting them onboarded, supporting them seamlessly when they need to update their account details, and making them feel valued when it's time to renew.