The Opportunities in Turning Inventory Fast and Digitally
Digitizing the auto financing process is the easiest way for dealerships to cut back on the time cars spend on the lot. By digitizing auto finance paperwork, dealerships can:

Complete Entire Transactions Quickly
The faster cars get out the door, the faster financing is secured, the faster car dealerships can get paid and move onto the next customers. Floor plan financing runs on speed, and the more rapidly financing is closed the better. Ideally, the car should already be fully funded by the time it's driven off the lot, or at least shortly after.

Eliminate the Chase
Dealerships waste significant time, energy, and resources chasing customers for documents. Representatives pour tremendous effort into calling and emailing customers for stips and signatures — instead of investing in closing new deals. In some cases, customers (and even dealerships) believe they have successfully submitted all the financing paperwork — only to be told later that additional documentation is required. Turning inventory over fast means eliminating the chase between dealership, auto lender, and customer.

Enable Remote Prequalification
With a fast and digital financing process, auto dealerships can prequalify customers even before they are welcomed at the dealership. For example, customers can send photo IDs or upload financial statements ahead of time. So they know what they are qualified for as they show up to the dealership, buy the car, and complete the rest of the financing process. This saves both the dealer and customer time at the dealership itself. And if the customer fails to qualify, or fails to qualify at an acceptable interest rate, at least they didn't have to show up to a physical location to be told so.

Delight Lenders
Prolonged financing cycles can lead floorplan lenders to waste time physically checking the dealership's inventory to ensure their loan stays covered. If the inventory is particularly slow-moving, the lender could require immediate payment as compensation for interest and the depreciation of vehicles. Nobody wants to arrive at this outcome: not the dealer and not the lender.
In addition, auto lenders are eager to partner with dealerships that work swiftly to secure financing. It takes the burden off them to frequently follow up with the dealership and make unpleasant decisions.

Delight Borrowers
Likewise, borrowers appreciate dealers who allow financing to be completed quickly and easily. Borrowers gain peace of mind if they can simply drive off the lot, knowing that a payment plan is settled. A positive dealership experience increases the likelihood of the customer sharing that experience with friends and family, boosting the dealership's reputation and business.

Strategies to Speed Up Time to Financing
From speaking with dealerships about their digitization efforts, we have identified three key strategies to boost time to financing at dealerships.

Wrap Everything Up in a Single Digital Package
Dealerships should have no trouble completing financing processes in a single meeting when digital forms, documents, consent, and eSignatures are identified and collected from a single place.
Dealerships can use workflow automation to automate requests to customers based on information provided in smart forms. These digital forms are based on conditional logic; this means that project managers can set up rules that only reveal fields that pertain to their particular characteristics.
Workflows ensure that customers complete everything they need to complete — nothing more and nothing less. This saves them time and frustration while moving them through the data collection process as quickly and efficiently as possible.
In addition, workflows take the principles of conditional logic and apply it to the entire process. Depending on the customers' input or their unique circumstances, workflows can guide them through a complex journey with ease.
For example, a workflow can automatically request a paystub from a borrower who identifies as employed through an employer, but request a tax return from a self-employed borrower.
Business admins can set up their own business rules and make adjustments on the fly, without developer or IT involvement. With dealerships under pressure to "move metal faster" and try new strategies at the drop of a hat, this is a must.

Create a White-Glove Experience
Digitized forms, documents, and consent collection are integral to creating a white-glove experience. Dealerships that provide easy and digital financing processes delight customers, all while benefiting their own bottom lines. Over time, your dealership will develop a reputation for bringing value, convenience, and innovation to the auto purchasing and financing experience.


Focus on One Channel
Borrowers should be able to submit their ID, documents, forms, and eSignatures from a single digital channel. This removes the messiness of piecing together different stips from other digital and non-digital channels.
Customers are reassured when they are able to complete all aspects of the financing from a single platform, rather than bouncing from physical paperwork to console to email. It also prevents dealerships from needing to chase customers for missing stips and dealing with unnecessary phone calls.
8 Use Cases For Digitally Complete Funding Journeys
We have identified eight ways dealerships can harness digital completion to expedite the financing process. These use cases allow car dealerships to collect key stipulations from customers before and after their visit to the dealership itself.

Remote Stip Collection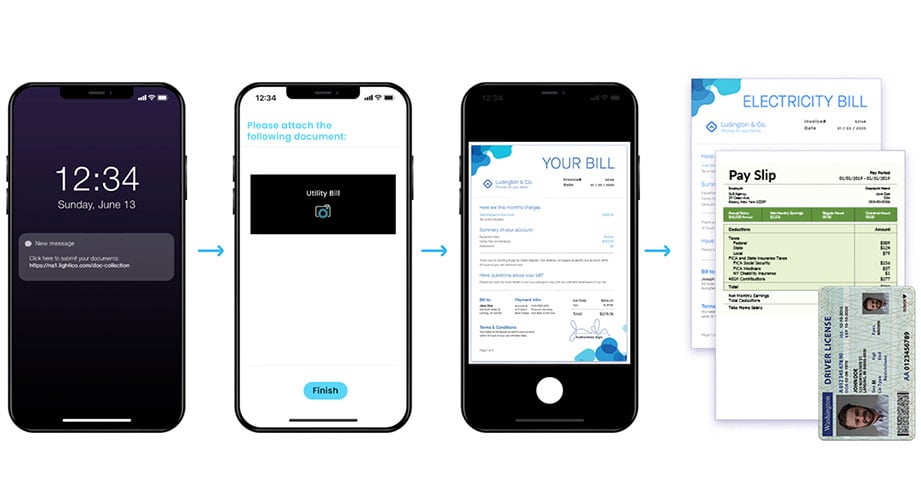 Before customers show up at the dealership, they should be able to send their proof of income, utilities bill, bank statements, and any other stips. This should be possible by simply having them snap a picture of the stips, and enabling them to send it to the dealer through their mobile phone in real time.

Digital completion capability: Remote document collection


Fight Fraud


Customer fraud is a real threat to dealers' reputation. Using remote ID verification allows dealers to verify the authenticity of their customers ID, and ensure that customers are who they claim to be.
Customers simply take a selfie, snap a picture of their official ID, and send both to the dealer. An advanced machine learning algorithm compares the two for likeness.
This can also be used as part of the pre-approval process before the test drive.

Digital completion capability: ID verification
Remote Contracting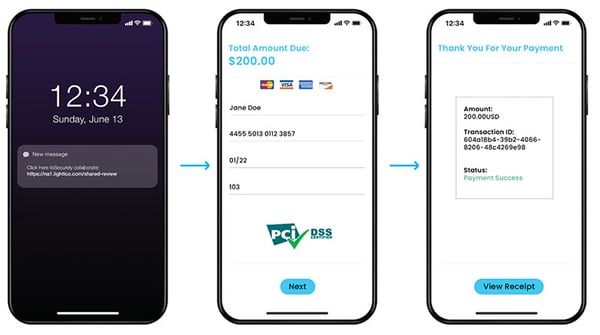 Car dealerships can enable out-of-state customers to apply for financing remotely, saving them precious time. That way, when they show up at the dealership to get their car, they can simply drive off.
Digital completion capabilities: eForms and remote document collection
Get Loan Applications Signed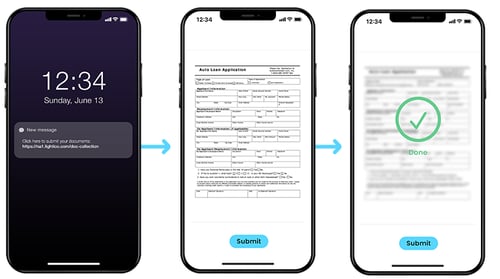 Customers can remotely sign off on their digital loan application forms.
Digital completion capability: eSignatures and eForms
Set Up ACH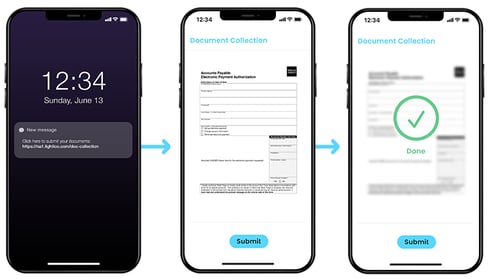 Make signing up for ACH the obvious choice with easy-to-fill eForms. By reducing the barrier to sign up for ACH, dealers and lenders have more predictable payments.
Digital completion capability: eForms
Enable Post-Sale Services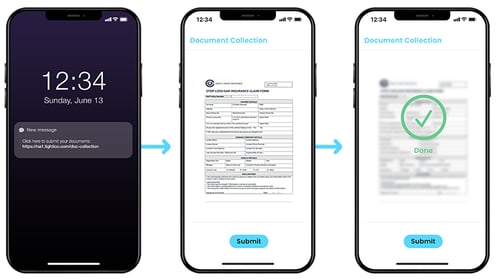 Remote and digital processes enable a number of post-car sale services, including maintenance services, warranty, and services extensions (e.g., window & tire protection), and managing insurance products (e.g., gap insurance).
Digital completion capabilities: eSignatures, eForms, remote document collection, and digital payments
Manage Test Drives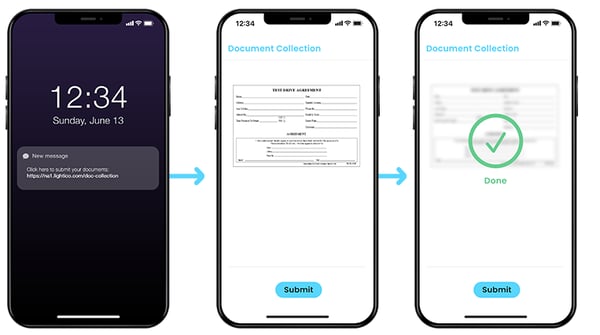 Allow customers to remotely get their ID verified, send documents, and sign the test drive application document.
Digital completion capability: ID verification, remote document collection, eSignatures
Down Payment Collection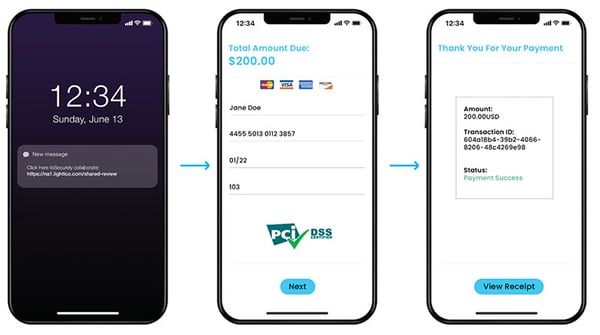 A digital payment system can help collect down payments on vehicles in a fully PCI-compliant manner.

Digital completion capability: Digital payments
Get Every Deal Funded Faster Than Ever with a Full Deal Packet — The First Time
With the right digital completion capabilities in place, auto dealerships can collect customer documents, forms, and consent faster, easier, and more securely in one session. The results are massive and instant: deals are immediately expedited, and dealership time is freed up. Moreover, relationships with the auto lender and customers will improve, meaning less room for frustration and misunderstandings. With rapid digital financing, the dealership wins on multiple levels.