New European Regulatory Requirements: What's Expected?
Due to these growing concerns with verbal consent the EU is implementing customer protections to its European Electronic Communications Code (EECC) directive. These implementing regulations are based on the updated EU telecommunications rules.
The main goal is to provide a clear, digital summary of the entire consumer interaction with the service provider. This includes a concise summary of the main elements including contract details, what the service is, cost, duration, renewal terms and more.
To note, this is not new regulation, but rather a new implementation from the European Commission on the deliverables of the EECC.
The summary will become a requirement as of December 21 of 2020 when the EECC becomes applicable across all EU member states.
This move comes in step with similar measures taken by English counterparts at Ofcom starting on section 5.
The Biggest Roadblocks to Compliance
While many service providers have started a long path to digitization, many of their customer interactions remain antiquated and open to compliance risks.
For service providers contracting through call centers, many would note that their ability to close contract details in real-time was challenging. They simply lacked the tools to send out price quotes, get signatures completed in the moment, and even process payments in an easy and secure fashion. As a result, sales take rate, ARPU and abandonment rate suffered.
Additionally, not only were topline numbers impacted, but also costs were inflated and - as this regulation tried to address - regulatory risks were encountered.
For example, in call center scenarios, agents were forced to read out lengthy terms and conditions and seek verbal consent from customers. This would be error prone as scripts would vary from customer to customer, and customers were far from attentive, resulting in many scripts either being misread by agents or misunderstood by customers, and increasing probability of disputes in the future.
As a result, average call handle time (AHT) ballooned, customers' satisfaction (NPS) suffered, all while compliance issues festered due to the tedious nature of the script reading and the endless variables of scripts that need to be considered for each different customer scenario.
In short, verbal confirmations on terms and disclosures have proven to
harm completion rates
inflate customer service costs
damage customer experience
leave enormous gaps and flaws for compliance reporting and adherence
7 Ways Businesses Can Make Sure They're Prepared
To ensure they're prepared to meet compliance requirements of this new EECC before Dec. 21, businesses can take these steps:
1. Digital Documentation for Every Transaction
Minimizing the risk of human error or miscommunication between agents and customers demands that contractually binding terms & conditions be captured digitally. This provides, in real-time, a clear and compliant administrative audit trail that can be accessed anytime and helps businesses avoid any version control issues down the road.
This digital record can also be provided when needed to the EU's Electronic Communication Regulation as needed, helping to instantly resolve questions around compliance should a dispute arise.
2. Efficiently Fulfill All Requirements — Even in a Call Center Environment
Call centers are often a crucial point of intervention since verbal consent on many products and transactions originate from them - and along with that human errors, disputes and compliance risks.
Especially in light of the new EECC implementation, contact center managers, business leaders, and BPOs need real-time digital solutions that turn around customer requests and give them the answers they need to complete a transaction in the moment. The ability to efficiently yet thoroughly complete these processes is critical to:
Lowering AHT and First-call resolution
Improving CSAT and NPS for customers
Providing regulators with compliant documentation and consent
Attaining these priorities requires an end-to-end, digital solution that enables both businesses and their customers to complete legally-binding transactions while capturing all documentation needed to meet EECC requirements.
3. Obtain Instant Digital Consent of Terms & Conditions
Most customers today expect to gain quick access to business communications and complete these tasks directly from their mobile device. Therefore, efficiently capturing digital consent and approvals from customers requires eliminating multiple channels and steps and allowing them customers to view and provide instant consent in one click to new contract terms and conditions in a way that's optimized for mobile.
Instead of jumping to emails and printing out cumbersome PDF forms, customers can simply receive an SMS message and tap on a link from their cell phone, which launches a mobile digital session that guides them through all terms and conditions that need their approval.
Instant Consent Clickwrap simplifies this step for the customer by guiding through all terms and conditions in real-time, allowing them to simply tap a checkbox that says "I agree" in order to consent to a transaction or service, or move forward with a contract. It also clearly states the specific terms that govern this consent.
This enables businesses to instantly capture customer consent and ensure compliance.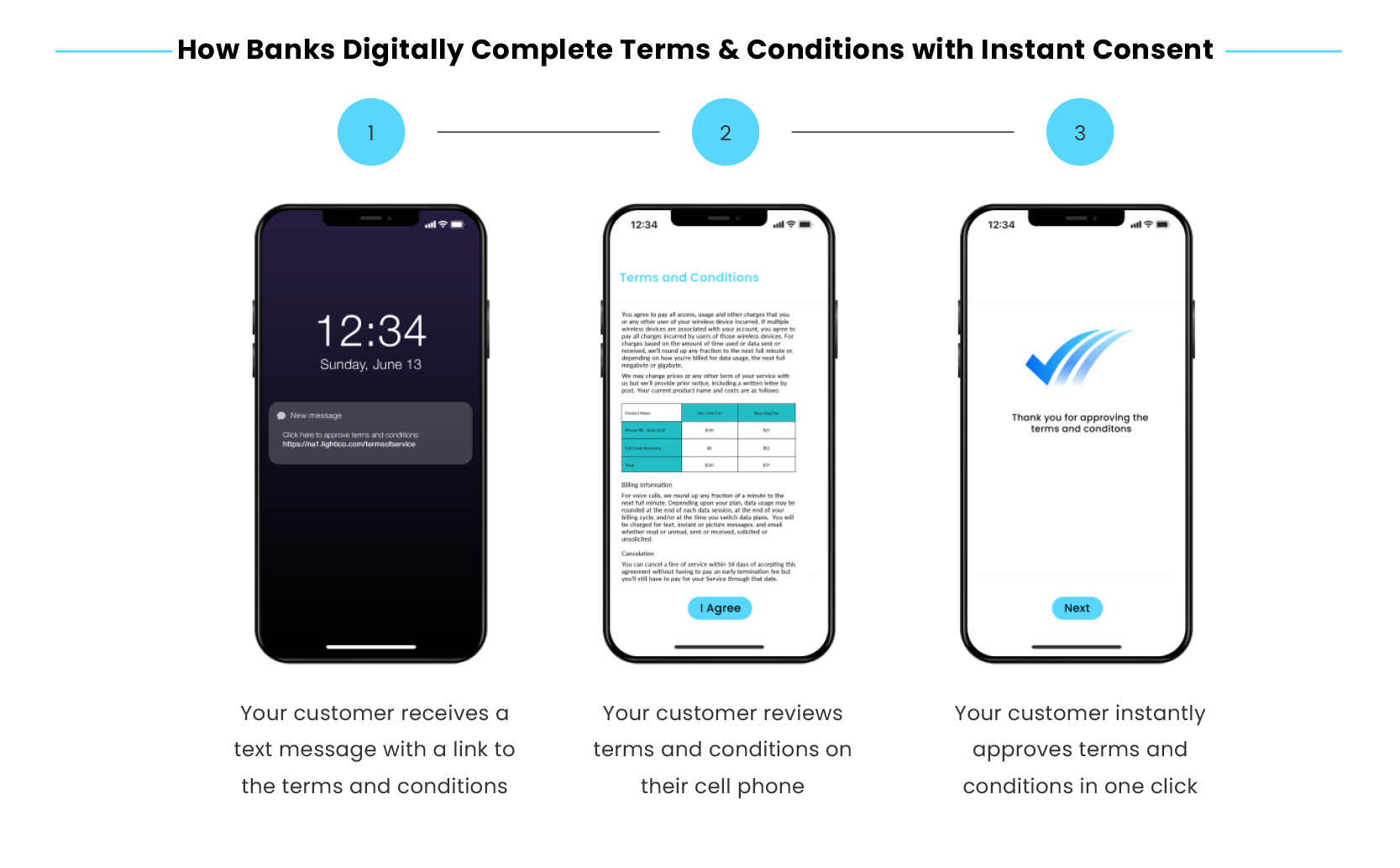 4. Enable Immediate Electronic Signatures on Mobile
Virtually any legally-binding agreement requires the customer's signature. But since many enterprises today use separate siloed systems to capture different requirements for one transaction, they force the customer to take multiple steps and use different channels, often reading to gaps in engagement and processes that lag, prolonging the process and harming customer satisfactions as a result.
Giving customers the optimal user experience across all channels while ensuring they collect compliant e-signatures in parallel requires the entire signing process to be end-to-end. Unlike lengthy PDF-reliant forms, they should be mobile-optimized and easy for customers to sign and send back.
The most effective eSignature solutions put smartphones at the heart of the transaction, as they are the preferred channel almost all customers have access to, wherever they are. Digital completion technology allows financial institutions, insurers, telcos, information and communications technology (ICT) providers, and utility companies to accelerate completion rates by making it simple for customers to instantaneously sign documents, agreements and terms all from their cell phones. This allows them to:
Accelerate cycle times
Complete all tasks in one call
Guide their customers in real-time
Improve first-time acceptance rate
Cut cost of compliance and oversight
Ensure smooth onboarding
5. Collect Documentation Securely and Remotely
Customers often must supply companies with supporting documents to get transactions approved, while for businesses obtaining them is important to avoid disputes and non-compliance violations.
Remote document collection allows the customer to snap and submit any document quickly and conveniently on their mobile device. This eliminates the need for them to use outdated manual processes such as fax or scanning machines, or to attach them to an email just to send back those required documents. For business across many industries, streamlining this process is key to eliminating delays in completing a wide array of transactions.
It also helps businesses to collect documents via a secure, encrypted session that is stored securely in the company CRM, eliminating the compliance risks that result from sending emails to the wrong address, lost mail, or other leakages.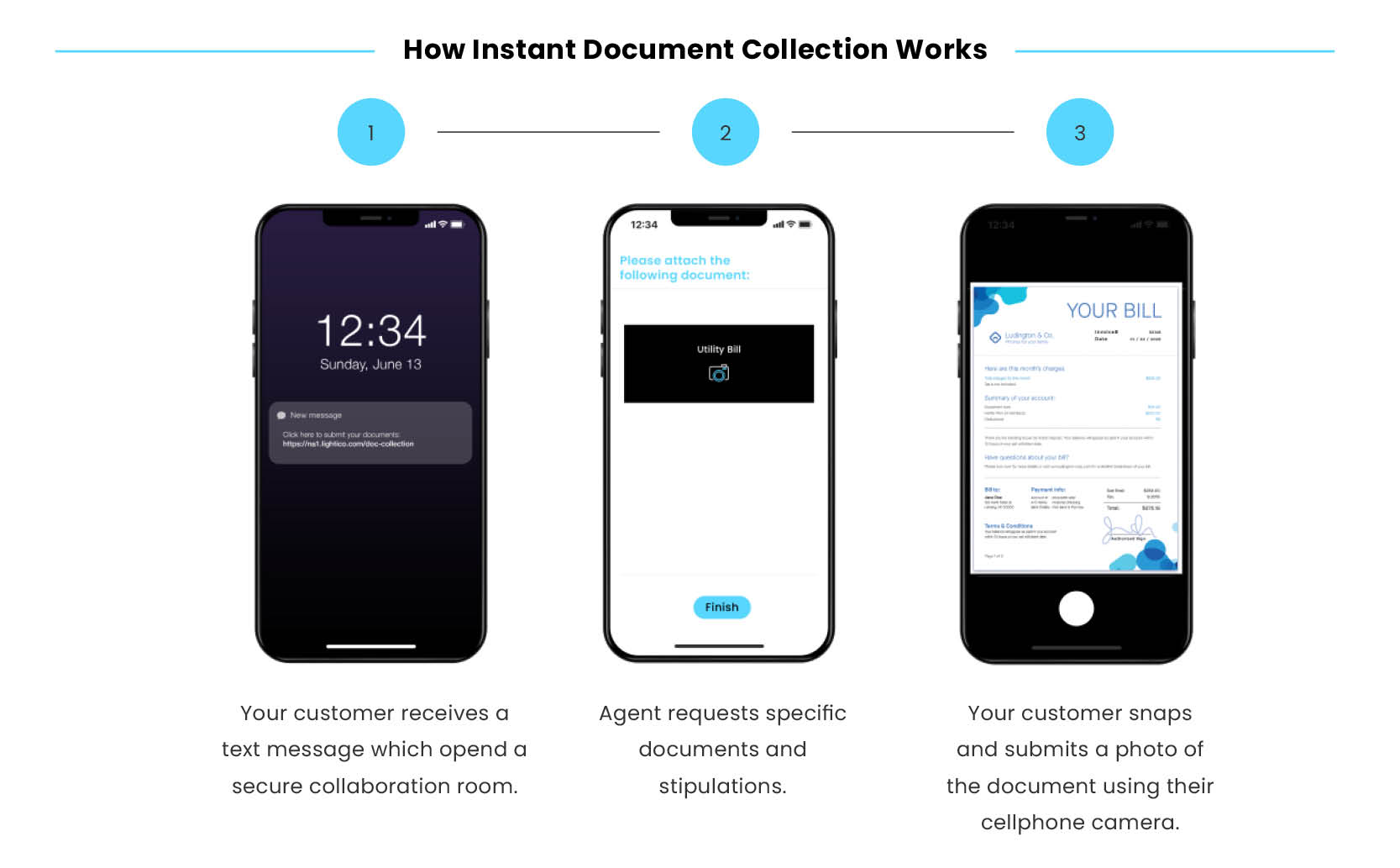 6. Smart eForms That Reduce Time and Errors
Audited, court-admissible forms can also be greatly expedited by using Smart eForms. Call center agents can use eForms to accelerate the application process, co-view agreements, and collect esignatures and even photographic evidence.
Digital completion technology uses smart fields that are delivered to the customer via an easy-to-fill mobile eForm which can be completed in seconds with auto-fill functions. Smart eForms use conditional logic to take away the friction of repetition for the customer by hiding fields that were completed elsewhere or are not relevant for that workflow.
While this speeds sales and servicing cycles, it also ensures that the correct forms are sent to the customer based on their purchase or service need - helping to avoid human errors and reduce non-compliance risks.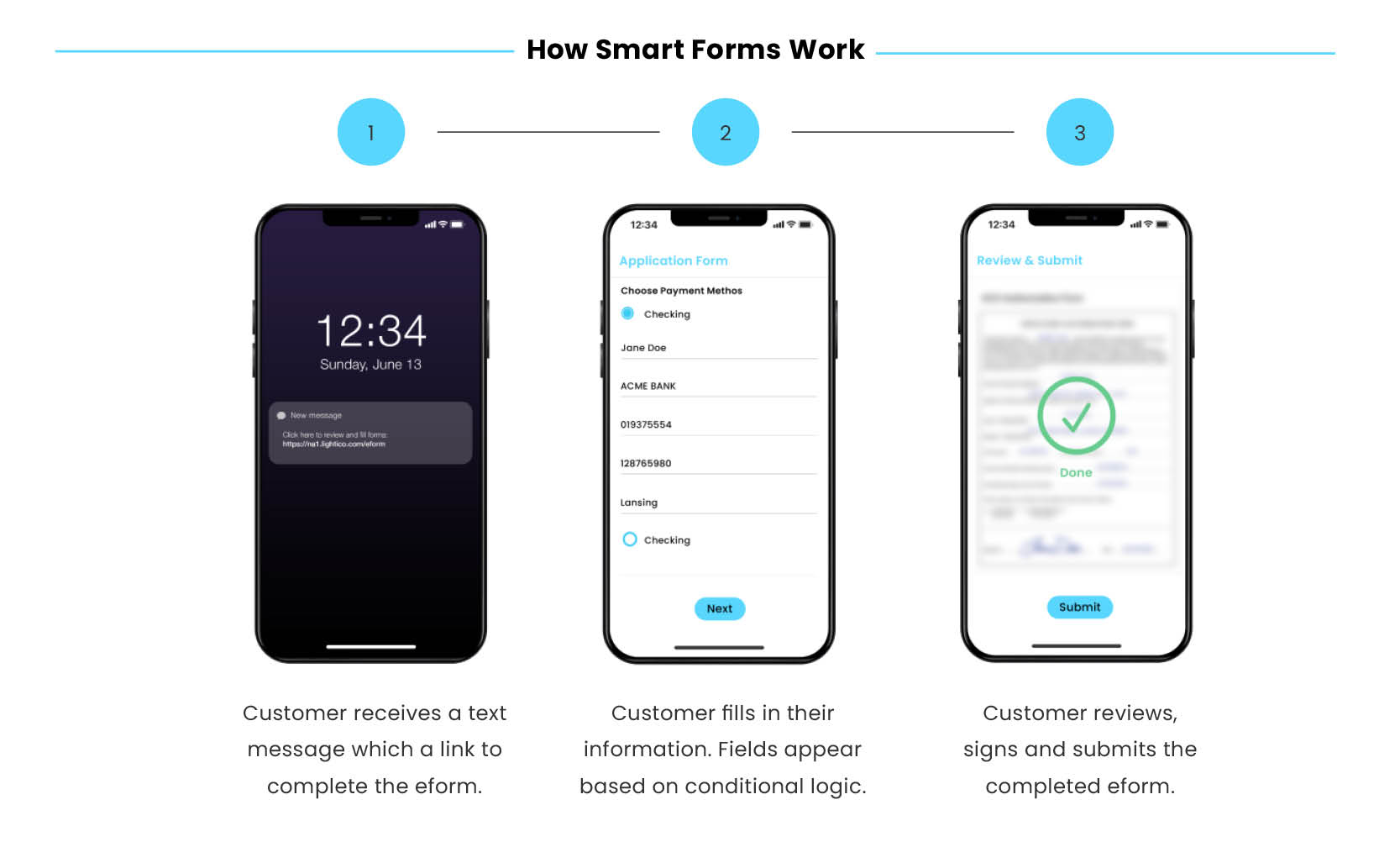 7. Automated Workflows That Minimize Inconvenience and Maximize Compliance
At the heart of smart eForms, automated workflows allow businesses to scale compliant digital customer experience across virtually any transaction. Instead of relying on manual work and verbalization to communicate T&C scripts agents and customers are automatically guided through conditional workflows.
Customers can see and select products, read and consent to only the terms and conditions relevant to them, and pay all from a mobile-optimized digital session.
Automated digital workflows help eliminate compliance risk while improving efficiencies by allowing admins to update business rules on the fly to trigger entire agent workflows throughout the call.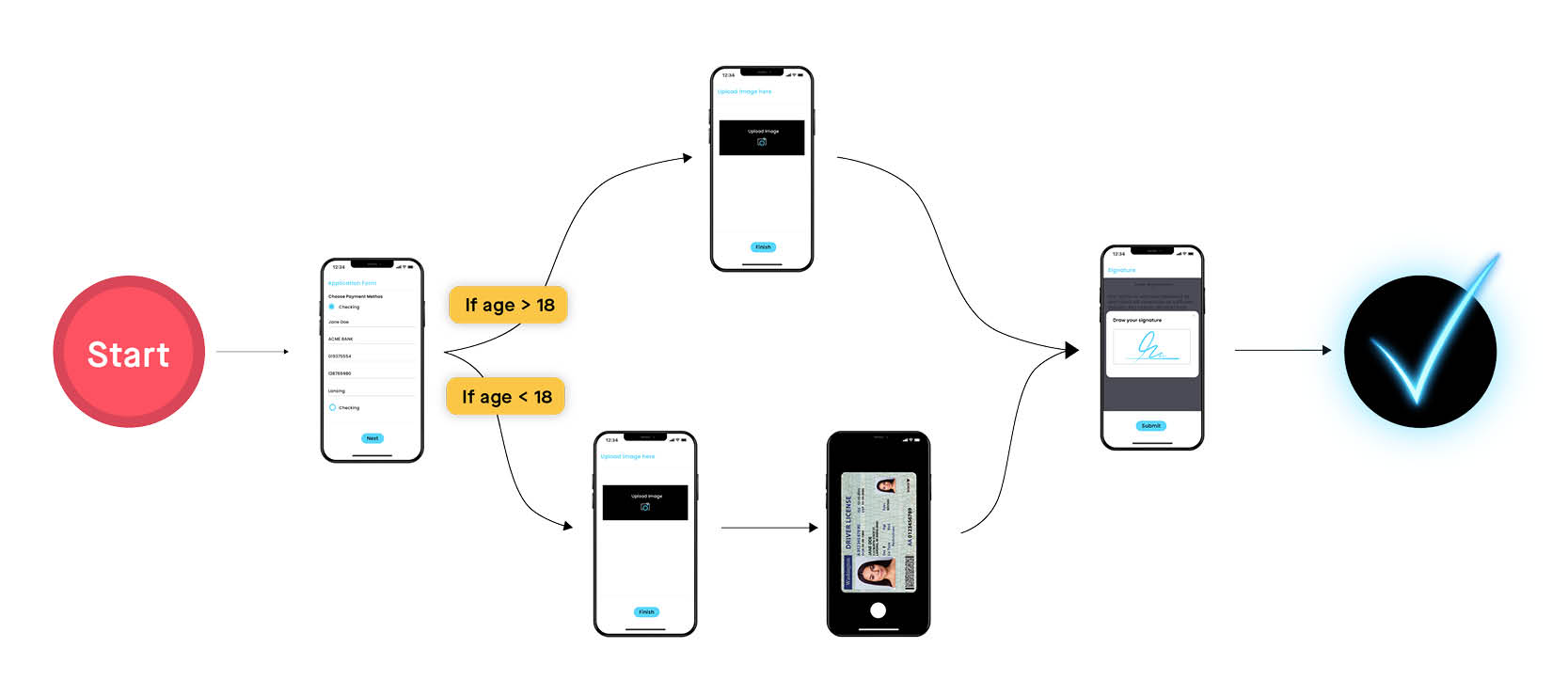 For Telco companies, implementing automated workflows has resulted in:
35% higher FCR
25% reduction in AHT
15% higher NPS
100% compliant journeys
Higher ARPU
Higher closure rates
Eliminated errors
Conclusion
The need to approve transactions digitally and compliantly was a top priority for enterprises before the coming EECC implementation, but looming update to this regulation makes it ever-critical to have the capabilities needed to digitally and remotely collect consent for any new contract agreements or terms and conditions.
Industry leaders such as British Telecom (BT) and MetLife are already leveraging Digital Completion technology to accelerate customer-facing processes to improve business results while ensuring full compliance with the new EU electronic communication regulation.
At BT's contact centers for example, hundreds of thousands of sales and service customer journeys are now completed more efficiently due to intuitive digital workflows that deliver financial contracts directly to the customer's smartphone. Using one end-to-end solution has enabled faster time to market and lowered AHT while strengthening compliance.
"The solution has been remarkable in terms of driving both compliance and business benefits. Following the quick and simple integration, we've seen a remarkable uptick in our sales and a step-change in our compliance abilities."

Paul Greig, Director of Contact Centre Sales, BT
Digitizing consent across the many processes that connect businesses with their customers will prove more vital with the EECC soon taking effect to eliminate errors that inevitably occur on both the customer and employee side — but ultimately put companies' compliance on the line.