The Perils of Prolonged Employee Onboarding, And What's Needed Instead
When businesses take too long to onboard new employees, it's more than a mere annoyance for HR personnel and the employees: it can have serious business consequences.
Here's what can happen when physical paperwork and too many touchpoints prolong onboarding:
Employees fail to onboard: Call centers and franchisees face steep competition. The gig economy means that potential employees are easily distracted by new opportunities. All things being equal, the company that offers fast and convenient onboarding will win over the company that makes their life more complicated. Imagine an employee who only plans on staying at a job for a couple of months, and might be making around the minimum wage. What are the chances he will stick with the cumbersome and complicated onboarding process?
Companies waste precious time and resources: Beginning an onboarding process with a potential employee who fails to onboard is a massive waste of time. All the money and effort that went into recruiting this person cannot be recouped. And even if the potential employee ultimately does onboard, the excess time and resources spent on getting him to the finish line is time and resources that fail to go to recruiting additional employees.
Reputational damage: A messy onboarding process, particularly if it involves unclear directions and messy paperwork, can lead to reputational damage. Word can get around that the business is not employee-friendly, hampering recruitment efforts.
Accelerated turnover: Many jobs in today's economy are short-term by design. But that doesn't mean companies want constant turnover. Holding onto good employees is still desirable, even if they're gig workers. A poor onboarding experience can contribute to preventable employee attrition.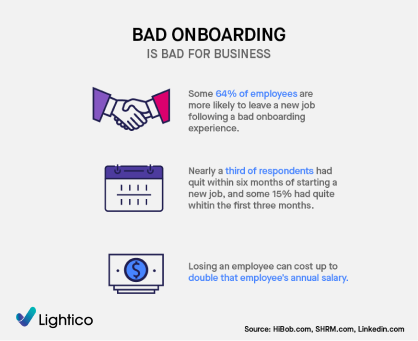 Given the hazards of a prolonged onboarding process, companies need to take steps to ensure efficient onboarding experiences journeys, both for remote and in-person employees, gig workers and permanent workers. This can be accomplished by retaining the company's core HR system while adding digital tools that expedite the end-to-end onboarding process.
Many of today's digital platforms go beyond offering standalone features, and enable admins to automate the full employee onboarding process by using a simple drag-and-drop interface. Intuitive conditional rules can be set to ensure business logic between steps, within steps, and within form fields.
This ensures that at every stage, employees are asked to take action based on their particular characteristics and the needs of the organization. For example, some organizations may only require ID verification for a background check; others may require extensive documentation. In addition, documentation requirements may depend on the employee's role. All of this can be configured as part of the automated workflow.
The tools we will explore here are integral parts of such workflows, and have been proven to immediately improve the efficiency of employee onboarding without requiring coding or IT involvement. Admins can simply plug and play, and see employees onboard faster right away.
Mobile-First eSignatures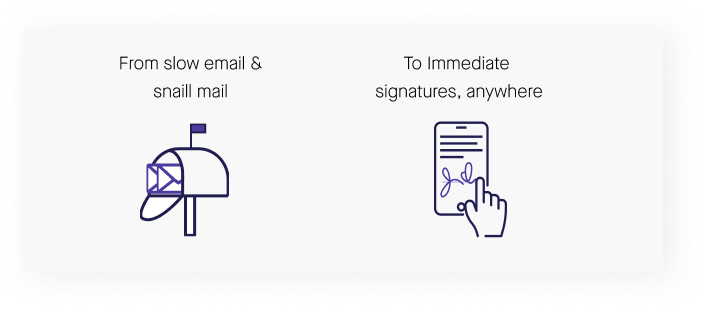 Companies can add eSignature lines to all digital onboarding forms and documents, enabling employees to sign them in one shot on their smartphones.
Unlike wet signatures and email eSignature solutions, text-message-centric mobile eSignature solutions allow employees to onboard from any location. There is no need for them to be in front of a computer or come to a physical location.
Mobile eSignatures can be deployed from any channel including website, chat, or IVR
They can even be used during a call with an HR professional who can guide employees through the signing process. Employees either finger sign, type sign, or use auto-generated signatures which are validated and stored on the CRM with a full audit trail. Mobile-first eSignatures are proven to generate over 50% more completed signatures than legacy systems, and the vast majority are completed in the moment — as soon as the organization sends over the signature request.
How Mobile-First eSignatures Work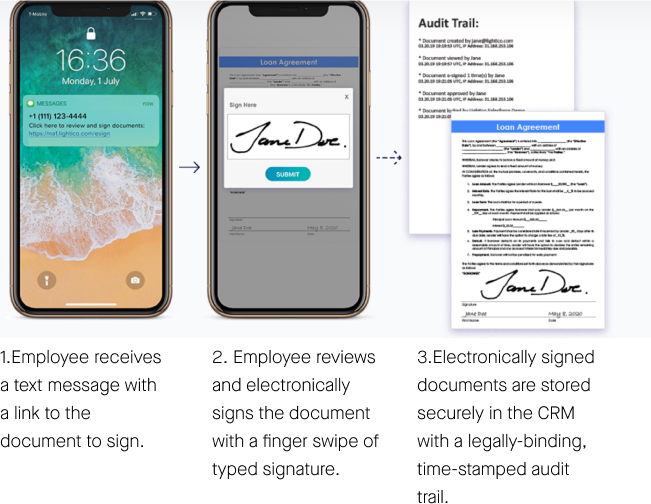 Smart eForms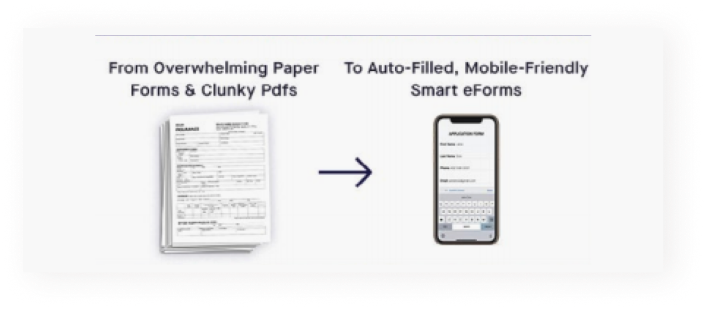 Employees, particularly those looking for work in franchises and BPOs, don't have the patience for filling out lengthy forms. Given that these aren't traditional career jobs, there is often less of a willingness to invest significant effort in onboarding. Traditional platforms that send out generic paperwork forms jeopardize the onboarding process, as employees tire of repeating personal details or answering irrelevant questions.
On the other hand, smart eForms automatically populate fields with known employee information. Additional fields only appear when certain conditions are met, preventing confusion and back-and-forths. For instance, an employee who lists themselves as "married" may be asked to provide details about their spouse, such as contact information. Whereas such questions will be hidden from an employee who identifies as "single."
As a result of personalized forms based on conditional logic, employees complete the process faster and with fewer errors.
How Smart eForms Work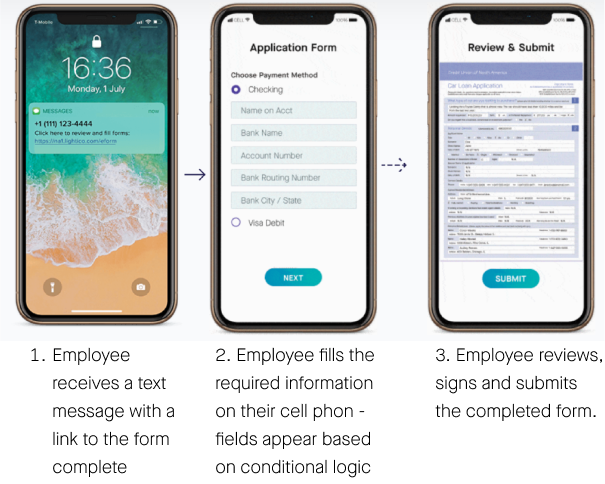 Mobile-First Document Collection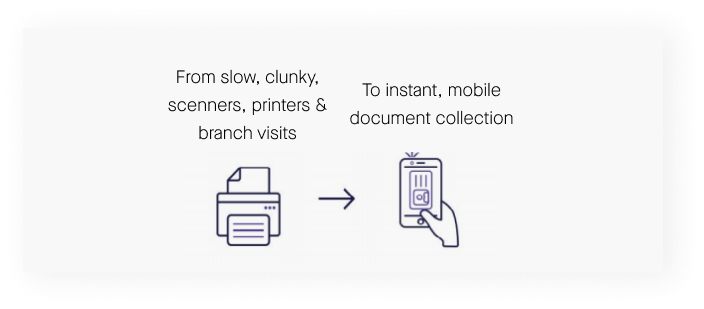 Onboarding employees requires collecting official documents such as photo ID, W-4, I-9, work contracts, non-compete forms, and non-disclosure agreements. Yet traditional processes prolong turnaround time as employees are required to scan, email, fax, or visit a physical location to submit these documents.
Companies can promote remote document collection by enabling employees to use their cellphone cameras to easily snap and instantly submit pictures of these documents. The collected documents are then associated with the employee's file and securely stored with the rest of their records in the CRM.
Mobile-first document collection minimizes the back and forth between HR departments and employees, speeding up cycle times by 80%.
For today's easily distracted and impatient employees, this is critical.
How Mobile-First Document Collection Works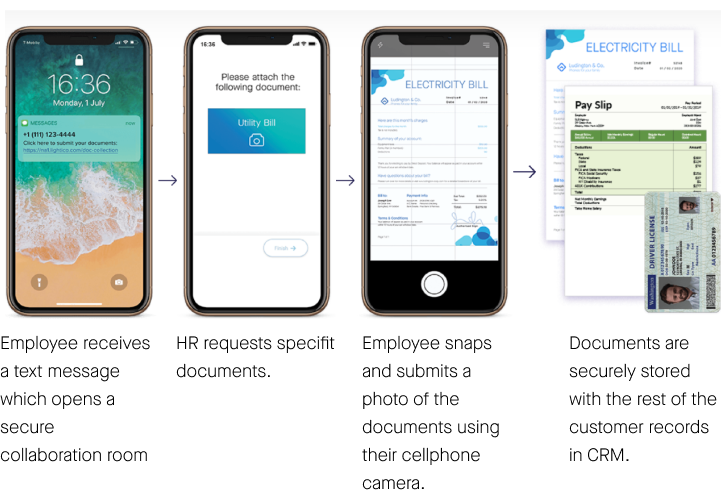 Remote ID Verification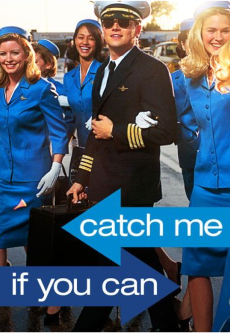 Even if an employer forgoes the full background check, they will still want to verify that a potential employee is who they claim to be. With digital ID verification, there is no need for employers to scan physical ID cards or search databases.
Potential employees simply snap a cellphone photo of their official ID, then take a selfie (optionally holding the ID card in it), and send the two photos to the employer. Using AI and machine learning,
Facial recognition technology can detect with nearly 100% accuracy whether there is a match.
In this way, companies protect themselves from deceptive employees who can sabotage their business — without slowing down the onboarding journey.
How Remote ID Verification Works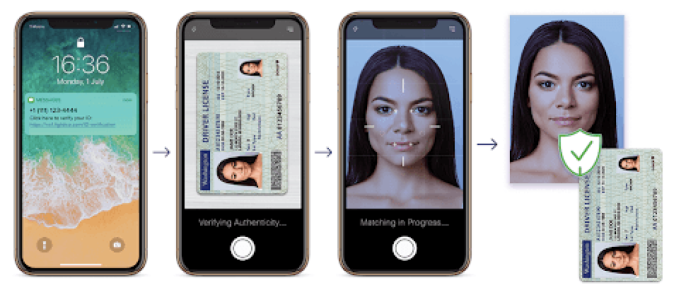 Digital Storage & Security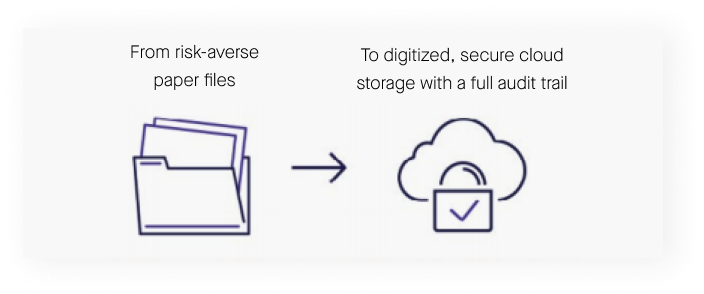 Businesses can digitize document storage to simplify adherence to their employee privacy policy. By capturing all employee interactions digitally, auditing and tracking information is easy for businesses and imposes no additional burden on employees.
All documents can be digitally stored with password protection and an audit trail to ensure safekeeping and quality control. With digitized contracts, supporting documents, and consent forms, businesses can easily and compliantly reference employee information when needed. There is no need to maintain and safeguard thousands of paper documents.
Speeding Up Employee Onboarding in the Digital Era
A digital onboarding process allows companies to expedite procedures surrounding new employees — from the moment a CV is sent to ongoing HR tasks. Use cases are diverse and range from gathering W4 and I-9 forms to getting consent for the chat/instant messaging policy.
By offering streamlined digital onboarding, companies can hire more efficiently, reduce leakage in the recruitment process, and get employees to training faster.
Lightico offers such a digital onboarding platform designed to fit the needs of today's fast-hiring companies. Capabilities including eSignatures, ID verification, instant document collection, digital storage, and automated workflows come together into a single platform to expedite onboarding. Finally, organizations can move beyond lengthy onboarding procedures and get to training employees faster.