The Insurtech Mindset: Unify Experiences to Bring Customers Closer to Completion
Until now, too many CIOs and CTOs have been focused on ensuring backend stability, and customer-facing interactions have been afterthoughts. As a result, we have seen incredible progress in internal digitization but have neglected front-facing systems.
For customer-facing processes, companies have typically cobbled together a combination of digital point solutions, mixed with legacy interactions. But these are disjointed and far from complete.
To leverage the investments already made, we need to add a customer-centric digital frontend. This will unleash the sound infrastructure where it matters most: to customers. And, by putting the customer first when it comes to digital transformation, we will see our KPIs respond in kind. The approach should be focused on streamlining the entire road to completion, not on piecemeal solutions that end up in silos. Ultimately, half-measures only add greater confusion and choppiness to the customer journey. We need a complete customer-centric lens to digital investments.
Just imagine the all-too-familiar experience where the customer wants to purchase an insurance product. They'd fill out online forms and hit submit — only to receive an email stating that they must meet an agent in person or come to a physical location to sign papers. Partially digital. Not complete.
Such scenarios are common. They also have an impact that goes beyond disappointing and frustrating the customer; they serve to postpone the ultimate goal which is completion. That customer's unfulfilled expectations for a fully digital experience increases the probability of that interaction never getting completed: the customer simply fails to meet the agent to sign the papers.
Or, the customer shows up but takes the valuable time of employees to finish something that should have been completable online.
But there is a better way.
A comprehensive solution has the power to streamline and accelerate customer journeys from start to finish. What today's insurers need isn't another tool: it's an approach that unifies all tools, procedures, and workflows into a single intuitive journey.
No obstacles. No diversions.
Just a focus on eliminating every obstacle that stands in the way of customers completing the tasks they begin. A focus on a different approach to digital transformation that's future-proof and capable of eliminating barriers to productivity. A focus on shrinking the gap between what customers expect, and what insurers deliver. A focus on reaching the standards set by companies from other industries, such as Amazon.com.
Leverage your digital transformation and leapfrog competition.
Create a digital edge to deliver ROI, compliance, efficiency, employee delight, and deliver on customer expectations.
It's time for digital transformation to take a completely new focus on digitizing and integrating technologies into customer-facing interactions.
It's time for a smarter approach to digital.
It's time for digital completion.
Digital Transformation Investments in Siloed Solutions Haven't Delivered ROI
Most insurance companies already have some digital tools in place for customer-facing processes. Yet these tools often only cover certain aspects of workflows rather than end-to-end journeys.
For example, robotic process automation (RPA) is growing in popularity thanks to its ability to improve the efficiency of specific tasks, such as using bots to communicate with prospects.
The problem with it is that silos remain, and processes are not always part of an integrated whole. For example, it's common to see things like agents using bots to reach and vet prospective policyholders. But once those prospects are on an actual sales call, they have to repeat information they already shared with the bot. Agents waste time collecting information that was already provided, manually following up with prospects, and collecting cumbersome physical paperwork.
Due to this lack of cohesion, sales cycles are long and cumbersome. The customer often loses excitement or starts having doubts.
Most existing systems simply aren't smart enough to sell in a fully automated and digital way.
Due to this lack of cohesion, sales cycles are long and cumbersome. The customer often loses excitement or starts having doubts.
Here are some of the insurance sales KPIs that are negatively impacted by these broken sales journeys:
Turnaround time: Agents spend an excessive amount of time reading terms and conditions (T&Cs), collecting signatures, and doing compliance paperwork. Customers rarely close in the first call because they don't have time for such processes.

Conversion rates: Bouncing prospective customers from channel to channel, prolonging phone conversations, physical paperwork requirements, and agent scripts are all symptoms of a broken digital workflow. This puts the sales process at risk and lowers conversion rates.

Compliance: Insurance is a highly regulated industry. Without the ability to quickly update process workflows and disclosures to changing regulatory needs, insurance agents put themselves at risk of noncompliance.

Cost of sales: The operational and processing costs of traditional insurance sales processes can add up, from following up with customers, to reading compliance scripts, to collecting signatures.
Silos also have a negative impact on the claims side of the business, including:
Turnaround time: Agents spend an excessive amount of time chasing customers for documents and signatures due to disjointed processes. All stakeholders, from customers to brokers to adjusters, spend disproportionate amounts of time following up.

NPS: Net Promoter Score, a measurement of customer satisfaction, suffers due to lengthy, confusing, and manual processes. According to Accenture's research, claims that took more than 20 days to be resolved had the highest negative claims experience ratings. This jeopardizes post-claims retention.

Compliance: Insurance is a highly regulated industry. Without the ability to quickly updated process workflows and document requirements to changing regulatory needs, insurers put themselves at risk of noncompliance.

Cost of claim: The operational and processing costs of traditional insurance processes can really add up, from chasing customers for supporting documents, to fixing NIGO forms, to manual data entry. Claims costs represent almost 80% of a policyholder's premium. The longer it takes to settle a claim, the higher the claim costs, hurting the insurer's profitability.
On both the sales and claims side, the average insurer uses a combination of manual methods and siloed digital tools that demand coding from the IT department and customized integrations, or simply fail to integrate smoothly with existing systems. Such disjointed processes make it difficult for insurance companies to adjust, reconfigure, and update business rules as policyholder and compliance requirements change.
The Insurtech Mindset: Unify Experiences to Bring Customers Closer to Completion
Meanwhile, "insurtech" companies are thriving, responding quickly to shifting customer needs and market forces.
Many insurtechs are customer-obsessed companies that enter the insurance sector, taking advantage of new technologies to provide coverage to a more digitally savvy customer base. In some locations, regulatory barriers have been lowered. In Australia, Singapore, and the UK, for example, insurtechs have been encouraged to test their innovative business plans on specific client segments without the need to conform to the full regulatory frameworks that apply to incumbents. Like fintechs, insurtechs are extending innovation throughout the sector, creating a competitive threat to incumbents but also potentially valuable opportunities for partnering on the changing terrain.
Customer expectations of instant digital transactions sustained seamlessly across digital channels are increasingly the norm. While insurtechs haven't come even close to replacing incumbents, they are growing fast and stand to capture a meaningful market share within a few years.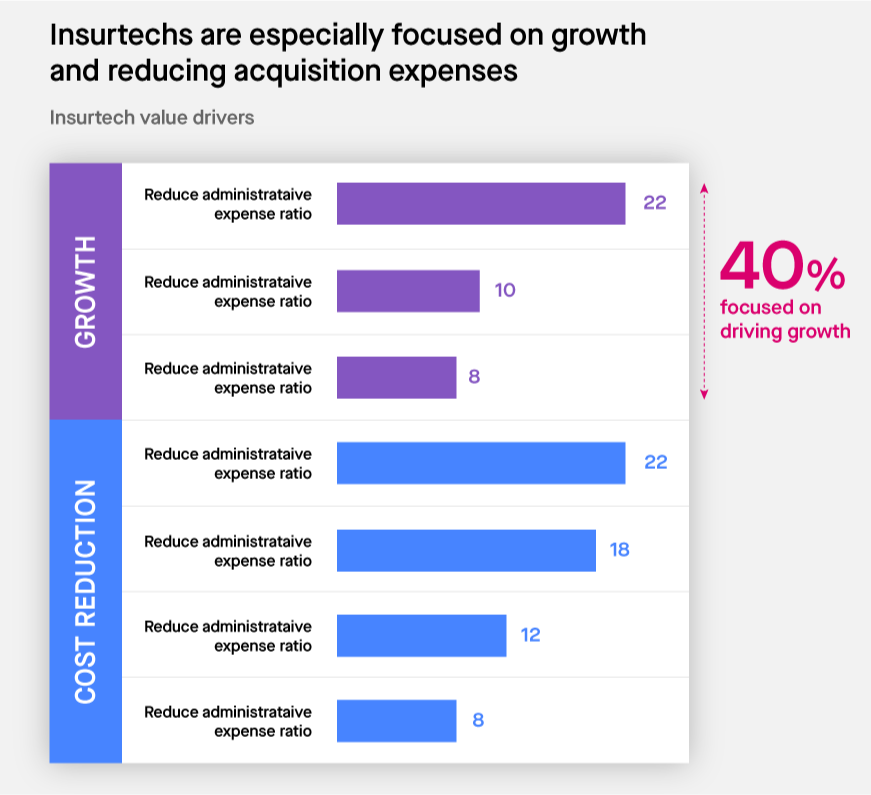 Insurtechs are able to go to market in inherently different ways than incumbents can. One advantage insurtechs have is the absence of legacy products, processes, and IT systems. They are able to design digital processes, products, and systems from the ground up, relying on the latest technology. More streamlined operations translate into less investment for faster returns.
Crucially, insurtechs rely on a fully automated approach. This allows them to cut costs and accelerate processes to meet customer expectations. For example, SnapSheet offers end-to-end automated claims management, and the Claim Di mobile app uses "shake and go" technology to help claimants interact with their insurers on the accident site just by shaking their phone.
Meanwhile, Lemonade, a US-based peer-to-peer insurer has attracted significant funding from top-tier investors, as well as significant traction in their quest to "Uberize" insurance. The company boasts a minutes-long, paperwork-free claims process and delightful online sign-up. It also has a beautiful and modern UI/UX that allows customers to breeze through insurance interactions.
While each insurtech has a slightly different way of approaching insurance sales and claims, all touchpoints work together automatically to expedite processes. As a result, customers progress rapidly towards the end goal without getting stuck and frustrated — or giving up — along the way.
You Don't Need to Be An Insurtech to Unify Customer Experiences
The risks insurtechs present to traditional business models are real, as digital innovation relentlessly redefines the next-generation insurance ecosystem.
While incumbents needn't turn themselves into full-fledged insurtechs, they do need to full embrace unified, customer-facing technology. Point solutions, such as standalone eSignatures and digital applications are not enough to bring customers to completion efficiently. And mixing in offline processes, such as printing, mandatory face-to-face meetings, and Fedex also prolong time to completion.
To keep up with insurtechs, traditional providers should embrace integrated, automated workflows that bring customer journeys to completion.
In the following sections, we will discuss the workflows and capabilities incumbents can adopt to transform their customer journeys on both the sales and claims side.
6 Key Workflows and Digital Capabilities to Bring Insurance Sales to Completion
Automated workflows allow insurance agents to provide a seamless yet compliant sales experience every step of the way. Unlike traditional manual processes that leave everything to the discretion of the agent, automated workflows ensure that a predefined sequence is automatically generated based on conditional logic.
These workflows trigger requests for customer information or action based on the requirements of their state of residency and policy type. Admins can make modifications to any of these elements without the need for coding.
Furthermore, these workflows can all be carried out digitally through collaboration between the agent's system and the customer's mobile phone.
Here are six capabilities that fit into automated sales workflows, allowing insurance agents to close more sales, more efficiently:
1. Dynamic Product Presentations
Agents no longer have to rely on in-person or even PowerPoint insurance sales presentations. These cumbersome ways of selling add needless friction to the sales process. In contrast, automated digital workflows allow agents to create a visual "order" showcasing potentially relevant insurance products, and sharing it in real-time with customers in a collaborative mobile environment. Simultaneously, agents are on a phone call with the customers to provide guidance and answer any questions each step of the way.
Once the customer shows interest in specific insurance products, the agent's workflow triggers the following actions:
Detailed product specifications are generated, including all the fine print, so a full offer is produced through the platform.

A corresponding dynamic document that correlates with the selected products maps the different selections to sections within the documents.

A dynamic document preview appears on the agent's screen so the agent can review the product offering first.

The workflow triggers the sending of the corresponding offer summary to the customer.
2. Instant Document Collection
Once the customer gives verbal confirmation of the order summary, it's time for document collection. This is where it normally gets tricky, as insurance companies have very complicated business logic determining which supporting customer documents are required.
With automated digital workflows, there is no need for agents to keep track of these requirements. It's built into the conditional logic of the system, ensuring the right documents are collected from the right customers. This eliminates the risk of human error.
A typical document collection procedure works as follows:
Formulas built into the workflow allow the admin to determine which document requests are sent to which customers.

The appropriate document is requested from the customer.

The customer snaps a photo of their document, which is automatically sent to the agent for review.
3. Terms and Conditions (T&Cs)
Terms and conditions (T&Cs) vary depending on the different parameters of the agreement with the customer. Depending on the offer type, there is usually a corresponding T&C paragraph. While it's certainly possible to save every T&C document in a separate PDF template, this slows down the time-sensitive sales process.
With automated digital workflows, there is no need for agents to search for the right T&C template or read lengthy compliance scripts.
Using dynamic documents, it is possible to create multiple sections on the same HTML document, add a section for each T&C paragraph, mark those paragraphs as objects, and apply conditions on them.
This way, with a single dynamic document, agents can send a single page that includes all the T&Cs — straight to the customer's cell phone for approval.
Here is how the disclosure procedure works:
The workflow automatically generates a T&C based on information inputted, such as policy type and state of residence.

The T&C PDF or web form appears on the customer's cell phone, where they can read it and check the approval checkbox.

The agent is instantly notified of the customer's approval.
4. eSignatures
Once the customer agrees to purchase an insurance product and reviews the final order, the workflow automatically triggers a request for the customer's electronic signature. The customer signs in the moment via the text message interface. An audit trail of the signed document is produced and stored in the CRM.
5. Self-Service
While insurance sales agents can play an important role in advancing the sales cycle, automated digital workflows are also ideal for self-service. Insurers can easily embed the entire sales cycle into an email body or website.
This is very helpful for attracting prospective customers who may be wary of interacting with a sales representative, and would rather buy online. While some customers are reassured by representatives who can answer all their questions, for others it's a barrier to buying. Insurance companies should cater to both types of prospective policyholders.
Self-service workflows also allow existing customers, whose information is already in the system, to renew or upgrade their insurance policy in a low-touch, convenient fashion. For these customers, there may be no need to speak to a representative at all.
A typical self-service experience can look like this
Customer arrives to an insurance product webpage or calls into an IVR, and requests new policy forms.

If the customer already exists in the system, the forms are pre-populated with their details and the customer can automatically change or renew their policy.

If the customer is new, they can fill out forms, upload documents, read and consent to T&Cs, and set up an ACH payment plan.
6. Customizable Look and Feel
With automated digital workflows, insurance companies can create a look and feel that reflects their unique brand. Not only does this support the goal of creating a cohesive, easily identifiable brand — it also makes it easier for sales agents that represent multiple products and brands.
4 Key Workflows and Digital Capabilities to Bring Insurance Claims to Completion
Automated digital workflows ensure insurers' processes reflect the latest compliance and business requirements. At each stage of the insurance claims process, requests for customer information or action are automated according to the specifics of their case and policy.
The top use case for digital workflows can be found during the following stages of the insurance claims process:
1. First Notice of Loss (FNOL)
Customers should be able to quickly and digitally submit all the required information during the FNOL process in one shot. Automated processes make it easy for the insurance broker to request the appropriate supporting documents, such as photo or video evidence.
In the FNOL form, conditional fields adjust to the customer's information, such as risk category or claim type.
Examples of conditional logic in FNOL processes include:

2. Claim Investigation
Back-and-forths between the claims adjuster, broker, and customer result in frustration and misunderstanding. The claims adjuster must gather missing information, prolonging the process.
By automating the claims process, all evidence and documents are instantly and digitally sent from the broker to the claims adjuster. Missing information is unlikely, as the broker had complete clarity regarding requirements.
And because the FNOL is handled in a standardized and automated way, the claim investigation is significantly expedited. The broker hands off the case to the claims adjuster, who has everything he or she needs to determine the amount of loss and damages covered.
3. Damage Evaluation and Repairs
The more the insurance adjuster spends time fielding customer questions about the next steps and repair personnel, the more the claims process drags on.
By automating evaluation, after each step in this stage is completed (e.g., appraising, contracting, repairs), the insurance adjuster automatically and digitally informs the customer of what's next.
Given that each claim is unique, some stages but not others may be needed. Some may require a different level of appraisal or multiple types of repairs from different repairmen. When each step is completed, the system instantly informs the customer of the next required action.
4. Payment
When customers are uncertain about when they will receive payment, it leads them to call the insurance company — sometimes repeatedly.
In an automated workflow, customers are automatically informed about the settlement of the claim and the payout, as well as the estimated timeline.
It's stressful for customers to have to constantly check on when they can receive their payment. With automated digital workflows, customers gain visibility into the process, and payments are instantly deployed the moment they are ready.
The Time to Impact and ROI of Digital Completion
Lightico has:
Delivered major roll-outs to tier 1 insurers globally

Driven up Net Promoter Scores by 35%

Reduced call handling time by over 20%

Reduced customer touchpoints by 10 to four for insurance sales
The time has come to choose technological solutions that simplify rather than complicate customer-facing processes, removing obstacles on the path to completion. Leaders in bridging the completion gap tackle their core business challenge when interacting with both prospective and existing customers.