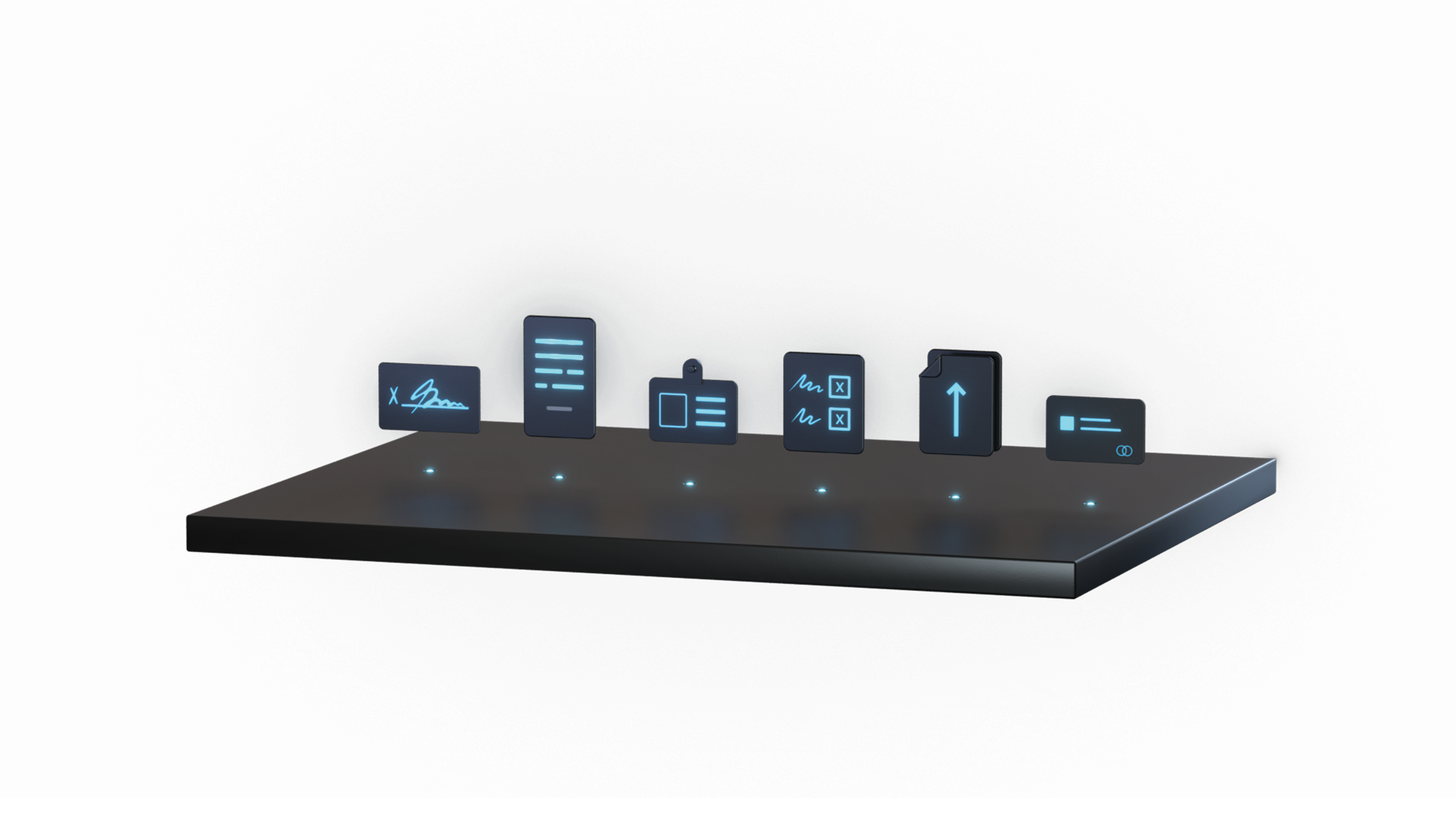 The Digital Completion Cloud is unique in the market in that it is:
Truly real-time:


Credit unions share and collect all tasks requiring completion in real-time with members.

All in one place:


Credit unions can consolidate all member-facing tasks into a single interactive experience.


Automated:


Any business user can design flows that automate the full journey and tailor it to each customer. No coding required.

Fully integrated:


Credit unions can get more out of their existing systems via APIs.
In this paper, we will discuss more of why completion is one of the most pressing issues for modern credit unions, and how the Digital Completion Cloud solves it.


Part 1:

Credit Unions Have a Completion Problem

Many of today's credit unions invest everything possible in creating a stellar member experience. From glossy advertising to member-obsessed employees to a massive social media presence, the best credit unions are pouring time and money into reeling in new members. But at the moment of truth — when a member is about to onboard or needs to receive service — the credit unions tend to slow down. Members find themselves bounced between agents, touchpoints, and channels, and are lost.
To be sure, in the digital age, much of the member journey is happening independently. By making it easier to navigate a webpage or app, and by enabling the member to interact with their credit union via chat and social means of communication, credit unions have improved customer journeys significantly.
However, research shows that most members still prefer to receive agent-assisted help combined with seamless digital processes when they need to complete a complex task. And very often, this simply isn't available to them. This last leg of the journey is typically long, painful, and full of friction. In many cases, these bumps in the last mile lead to a failure to complete the task. Members attempt to finalize their interaction, but their efforts are thwarted.
We have identified two of the primary reasons why credit unions fail to bring interactions to completion: The prevalence of silos and legacy channels.
Silos
Credit unions today usually employ technology to enable digital interaction. Yet many of these technological tools end up creating more silos because they fail to connect the dots of the member journey. For example, a credit union may allow members to begin the account opening process online, but redirect them to a physical branch when it comes time to sign.
In such cases, digital processes are not integrated and lack cohesiveness. Members are bounced from one channel to another, leading to frustration. It's also common to see things like members being able to fill out some forms electronically, but the forms don't remember information that was supplied at another stage of the process.
These choppy digital journeys, characterized by too many touchpoints and a lack of continuity, are due to the fact that credit unions tend to adopt digital tools as point solutions.
Many members who encounter siloed processes or too many touchpoints during their journey will simply give up. As a result, credit unions incur huge costs and miss out on opportunities to serve their members well.
Legacy Channels
eSignatures and eForms were once inseparable from PDFs sent via email. These forms of digital customer interaction hearken back to the early 2000s, when they gained prevalence and legal recognition.
Today we have smartphones, which allow consumers to get things done from any location. From ordering goods to trading stocks, consumers today are accustomed to taking care of practically any matter from their miniature handheld computer.
With smartphones enabling consumers to carry out an ever-expanding range of activity, it's little surprise that from 2012 to 2018, the total average time people spent on their mobile increased from 88 to 203 minutes per day.
These habits would seem to naturally carry over to how credit union members prefer to fill out forms and sign: through their phones. Yet when members attempt to fill out information and sign via PDF on their mobile phone, they encounter friction. Many existing software solutions on the market require mobile users to open their email, download the pdf, and complete and sign their documents in A4 or Letter size on small screens. The forms aren't optimized for mobile. And some formats require users to download a particular app in order to digitally fill out the form.
Legacy channels and formats such as email and PDF contribute to excess time to completion, or failure to complete the transaction at all. A study of over 1,000 Americans surveyed respondents who didn't complete a contract that required an eSignature. The results show that 27% lost or forgot about it, and 35% said it wasn't mobile- or user-friendly enough. The digital and non-digital channels of decades past aren't equipped to promote completion for today's on-the-go, mobile-first credit union members.
Notably, some of the legacy eSignature solutions have tried to integrate PDF with additional customer-facing capabilities, but this hasn't yielded the desired results. The experience is still centered around the PDF and therefore difficult to streamline, automate, and make intuitive.
Part 2:

The Limitations of Current Systems
Why They're Still Not Promoting Completion
The pervasiveness of silos and legacy channels has led to the rise of friction-filled — and therefore incomplete — customer interactions. A number of different types of systems have been introduced to update credit unions' processes, but none have so far successfully tackled the issue of incomplete member journeys.
Here are a couple of the systems that have been introduced to improve credit union processes. While all of them serve important purposes, none of them actively aids digital customer completion.

eSignature Solutions
Standalone eSignature solutions are unable to handle the end-to-end member journey, just one aspect of it. As described in the previous section,
they are typically centered around PDF and email.
Examples: Adobe Sign, HelloSign




Agreement-centric Solutions
Designed specifically for managing contracts. Agreement types include contracts, offer letters, and the many other types of written agreements used across nearly every business function.
Example: Docusign




B2B-centric Solutions
Often rely on PDF or a mobile app that must be downloaded; not conducive to instant completion. Centered around Contract Lifecycle Management, which helps streamline the contract preparation process and is more relevant to B2B than B2C transactions.
Examples: The vast majority of eSignature and agreement-centric solutions

Business Process Management (BPM) Solutions
Focused on automating any and all aspects of the credit union, but especially operational processes.
Examples: Nintex Process Platform, Pipefy, Kissflow

Robotic Process Automation (RPA) Solutions
Focused on automating individual backend tasks, not a unified
customer frontend.
Examples: Automation Anywhere, UiPath RPA


Experience Management Solutions
Focused on getting actionable insights about the customer experience (via surveys or analytics), but doesn't improve the experience itself.
Examples: Qualtrics, Birdeye, Medallia
What Executives Are Saying
"[Traditional eSignatures are in] one of those emails in your inbox that you just never open."

Senior Vice President at a Financial Services company
Part 3:

Principles of Digital Completion
In today's competitive and fast-paced business environment, it's no longer enough to improve back-office operations, as RPA does. Nor is it enough to simply digitize single aspects of the customer journeys, as eSignatures do. Credit unions need a smooth and coherent flow straight to the end. Just like a dropped ball at the end zone negates any of the wins beforehand, a great member experience doesn't matter if credit unions botch the final transaction. Getting to completion, whether it's finishing onboarding, resolving a servicing issue, or closing a cross-sell opportunity, is where credit unions need to now direct their efforts.
This is where the Digital Completion Cloud steps in and takes over.
Digital Completion Defined

Digital Completion is the art of intelligently and easily completing entire processes without the need for undue human involvement. This requires moving from a narrow, siloed view of features towards an end-to-end view of processes and leveraging intelligent automation, digitalization, and integrations.
The Digital Completion Cloud is:

Truly Real-Time
The Digital Completion Cloud is unique in the market, allowing credit unions to share all related tasks in real-time with members and receive immediate responses. All interactions take place in the Lightico Completion Zone, a live digital session between the business and the customer. Thanks to sound backend technology, the system responds in a split second.

All In One Place
The Digital Completion Cloud allows credit unions to consolidate all their customer-facing tasks into a single interactive experience, giving them the privilege to choose between the primary vendor's micro apps and third-party integrated apps. Some examples include eForms, eSignatures, ID verification, OCR extraction, payments, document collection, and more.


Intelligent and Automated
Manually selecting the relevant customer tasks or relying on code-heavy solutions creates high compliance risk. With no-code workflow automation, any business user can design flows that automate the journey and tailor it per member — all in real-time based on API or manual data input.

Fully Integrated
With rich REST API and pre-built integrations, any credit union can get started with the Digital Completion Cloud in weeks and get value from the platform immediately.
Part 4:

Core Capabilities of the Digital Completion Cloud
The Digital Completion Cloud allows credit unions to:


Unify the frontend experience for members, allowing them to complete entire journeys (which piecemeal functionality isn't equipped to do).

Unify data-collecting tools into a single channel.


Automate workflows that tie all the member-facing capabilities together.
We have identified six core capabilities that allow credit unions to bring member journeys to completion faster.
Capability 1:
Member ID Verification
Growing KYC requirements and the rise of digital customer interactions have made it more important than ever to remotely and accurately verify members' identities.
Typically, authenticating ID requires comparing an ID card and other official documents to external databases. But the problem with many traditional and commonly used identity verification methods is that they can be easy for fraudsters to manipulate, and burdensome for customers and employees.
With automatic identity verification capabilities, credit unions can protect their members and themselves from fraud by enabling a frictionless KYC experience and member authentication without slowing onboarding and service cycles.
The customer is requested to take a smartphone picture of the front and back of the photo ID, and take a selfie photo. Both are sent back to the credit union employee, also
via smartphone.
Using image processing and smart algorithms, the system authenticates the identity document.
Unstructured data placed on the document such as first name, last name, address, date of birth, document expiration date, and document ID is extracted using the Optical Character Recognition algorithm (OCR). The extracted data can be inserted directly into a document, reducing errors and time to completion, and promoting a streamlined customer journey.
Capability 2:
Document and Proof Collection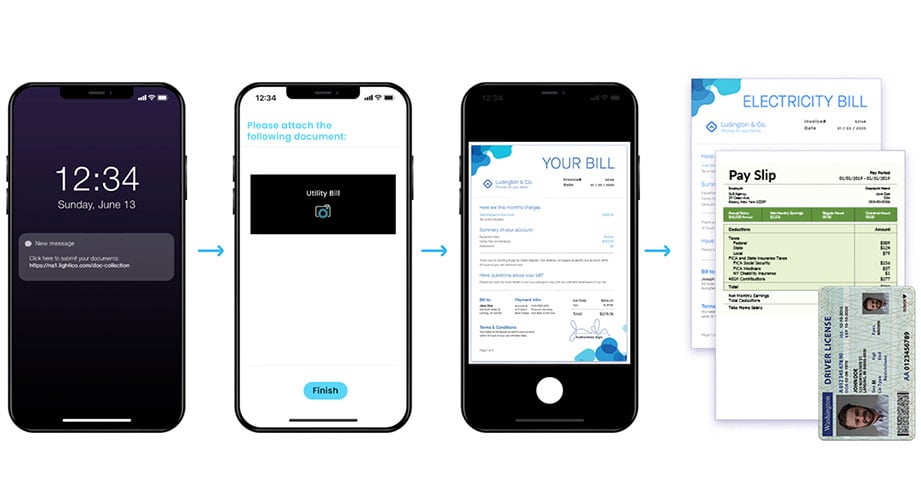 Collecting documents such as a driver's license, proof of income, invoices, and utility bills are often a requirement for servicing credit union members. However, current processes prolong time to completion as members are required to scan, email, fax, and sometimes even make in-person visits to submit these documents.
The Digital Completion Cloud empowers today's impatient members to submit documents and stipulations more efficiently. Members can use their smartphone cameras to instantly snap and submit pictures of their documents to the agent for review and secure storage.


Capability 3:
Electronic Form Collection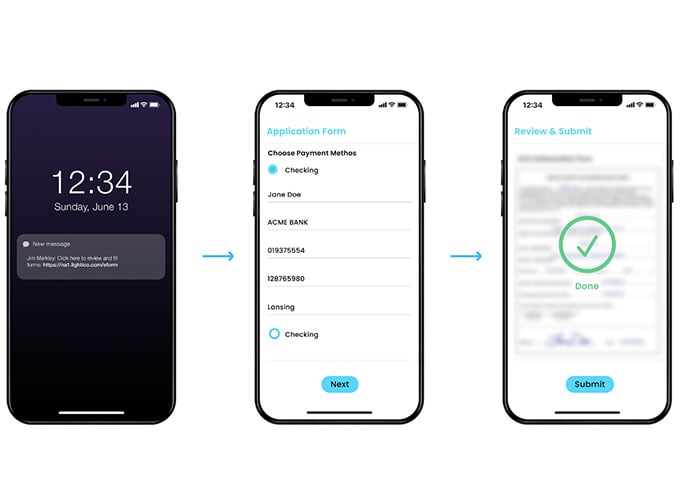 Electronic forms make it easier for credit union members to reach completion, faster. They are optimized for whatever channel the member is currently using, including smartphones.
User-friendly digital forms provide members with an intuitive interface so they can complete all the required information correctly the first time, eliminating rework and chasing. Digital forms simplify the paperwork that often slows processes and frustrates members and employees.
The Digital Completion Cloud includes conditional logic capabilities that can be added to smart forms and reveal to customers only the fields that pertain to their unique characteristics. This allows members to breeze through forms that populate with fields based on their previous responses. Forms get completed faster and with higher accuracy.

Capability 4:
eSignature and Consent Collection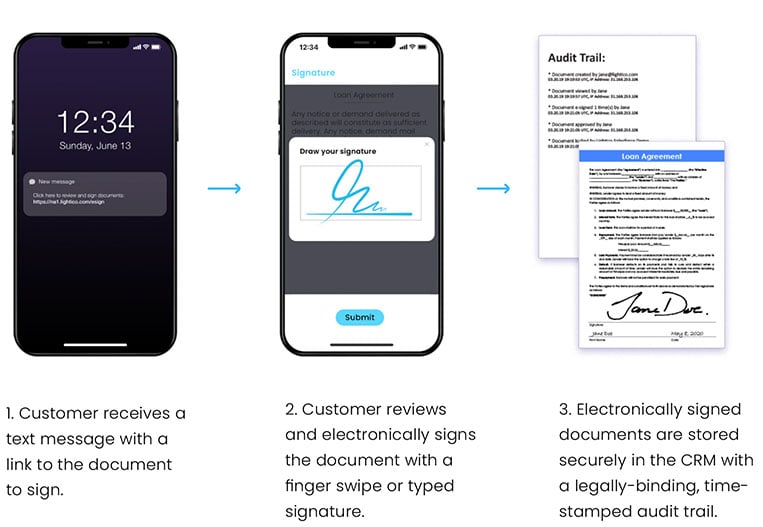 eSignatures are an integral part of a completion-focused workflow in that they legally
prove customer consent. But PDF-based eSignature solutions, or those that require
users to download special software or an app, often prolong rather than accelerate
time to completion.
The Digital Completion Cloud eSignature is built for busy, on-the-go members. It requires no extra software from the member — just the smartphone in their hand. An admin enters into a console with a drag-and-drop interface, configuring business rules to trigger requests for eSignatures. For example, members may be required to add their eSignature to some digital documents, but not others. Admins can set up relevant rules based on conditional logic ("if"/"then").
Not only is it easy for members to sign from any digital channel, from any location, it's easy for employees to receive them in the moment, when they are instantly stored for future reference. There is zero lag time between any of these steps, allowing eSignatures to be a seamless part of the customer journey.

Capability 5:
Workflow Automation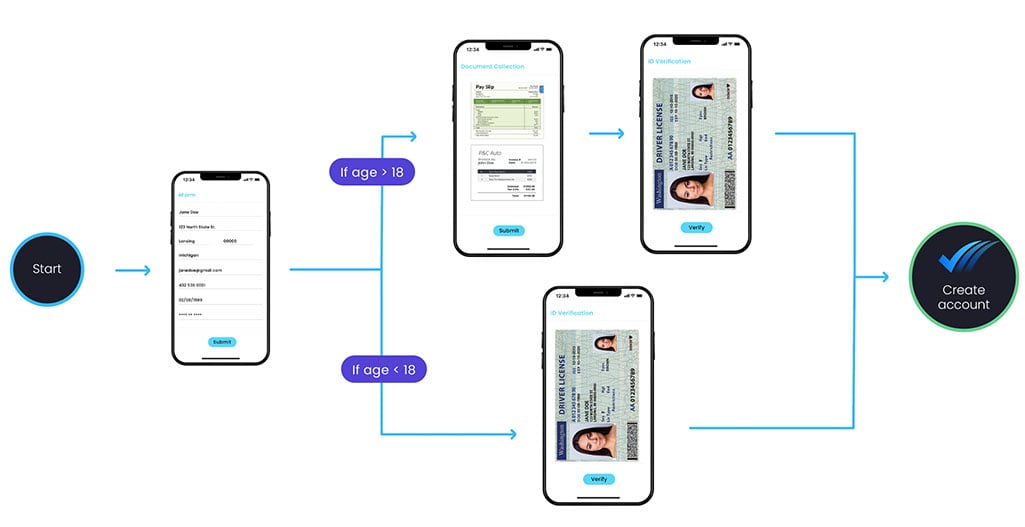 Workflow automation enables credit unions to automate requests to members based on information provided in smart forms. These digital forms are based on conditional logic; this means that project managers can set up rules that only reveal fields that pertain to their particular characteristics. For example, a member filling out a personal loan application form may be asked to provide additional details only if he or she has struggled to maintain a minimum account balance.
Such forms improve turnaround time, reduce the likelihood of error, and improve the form-filling experience.
But workflow automation takes the principles of conditional logic and applies it to the entire process. Depending on the members' characteristics, the solution triggers or blocks requests for additional actions or documents.
Project managers can set up their own business rules and make adjustments on the fly, without developer or IT involvement. In today's constantly changing business and regulatory environment, such self-service is a must.


What Executives Are Saying
"With the Digital Completion Cloud, the ability to complete things and to finalize them has improved dramatically. We went from 3% to 20% in ACH."

Senior vice president at a nationalfinance company
"Completion is a big deal, and the platform is certainly improving that."

Digital innovation executive at a luxury car company
"What would have taken two weeks, now takes 10 minutes on their cell phone. Clients and our referral partners love it!"

National direct sales manager at a healthcare company

Conclusion

Despite herculean efforts to adopt new technology, credit unions today continue to struggle to reach closure. This is often due to a one-sided focus on improving backend systems, or adopting one-off, piecemeal technologies such as RPA or eSignatures.
This is no longer tenable given how radically members' expectations have shifted in a digital direction. It is no longer enough to optimize individual aspects of the member transaction — the entire journey must be built with fast completion in mind.
Here at Lightico, we created the Lightico Digital Completion Cloud™ — an end-to-end frontend platform, with deep integrations to back office systems through a robust set of APIs, that ensures members spanning different industries reach completion, faster. It was designed from the ground up to incorporate all the digital tools into one seamless automated workflow, from sending documents to eSigning and making payments. All this takes place in the Lightico Completion Zone™, a live digital session between the credit union and the member.
The Digital Completion Cloud is as lightweight as the clouds in the sky, requiring minimal IT effort. And yet as soon as it's plugged in, it rains its magic on customers, who experience lightning-fast, friction-free transactions.
Best of all, it's future-proof, as credit unions can update the workflows in response to changing customer needs, business conditions, and regulatory requirements.
33% Faster Onboarding Process
67% Lower Abandon Rate
25% Increased Conversion Rates